---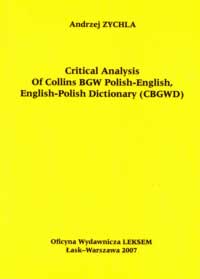 Andrzej ZYCHLA, Critical Analysis Of Collins BGW Polish-English, English-Polish Dictionary (CBGWD)
Łask-Warszawa 2007
ISBN 978-83-60178-44-7
seria: Semiosis Lexicographica
stron 108
format: 14,8 × 19,8 cm
oprawa: miękka błyszcząca
---
What follows is an updated and re-written version of my MA thesis completed in 1998 and concerned with critical analysis of the first edition (1998) of Collins BGW Polish-English, English-Polish Dictionary (CBGWD) written under the supervision of professor Ben Paflin (Adam Mickiewicz University, Poznań).
The latest edition of the dictionary (described as New edition on its dust cover) came out in 2006. Even though the cover claims several hundred new entries have been added, it is still fundamentally the same dictionary but in a completely different cover and with a new title (BGW is no longer a partner). Detailed comparison of page and volume layouts between editions reveals a difference of up to one printed page of text per volume, which is due to a slightly different typesetting rather than newly added material. All the advantages, as well as flaws, of the former editions have thus been preserved and most of my original criticism remains valid.
I would like to use this opportunity to thank professor Włodzimierz Sobkowiak (Adam Mickiewicz University, Poznań) for his professional input and insight and many an hour spent together as well as his encouragement to make my MA thesis available to a wider audience.
My thanks are also due to professor Jan Wawrzyńczyk (Warsaw University) for his enduring patience and regular nudging that finally brought this project to completion as well as to my Alma Mater, Zielona Góra University, for financial support of the undertaking.
Ze Wstępu
Zobacz również
Polecamy inne nasze książki o podobnej tematyce: